Trabaja con Nosostros-nuestra gente-módulo de texto2
We are a dynamic, fun, customer-oriented, quality-driven company committed to innovation and new technologies.
Línea Directa Asistencia's professionals come from a wide range of different geographical backgrounds and cultures, but they are able to work as a close-knit team. We are convinced that this diversity of profiles, experiences, and points of view makes us stronger and allows us to grow as a company.
We asked an employee to give us her opinion on Línea Directa Asistencia:
BEGOÑA VILLANUEVA
What's your job in Línea Directa Asistencia?
Assistance processor.
Do you believe that Línea Directa Asistencia has different aspects from other companies? Which ones?
Quality, humanity, team spirit and enterprise.
Would you recommend working in Línea Directa Asistencia? Why?
Yes, because they give you opportunities for improvement, because they are concerned about you, because my opinion counts, because there are rewards and because at any moment you feel like you have a second family.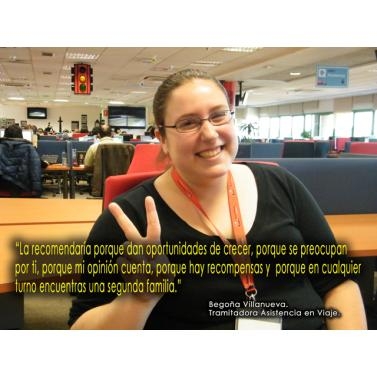 Banner - Porcentaje mujeres y hombres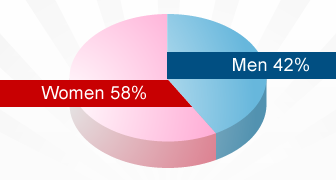 Banner - Porcentaje contratos