We carry out vehicle maintenance tasks and repair bodywork and mechanical faults in a network of repairers located throughout the country. Our repair times are reduced thanks to photo appraisal, assessing the vehicle in less than two hours and being able to initiate the repair process on the same day.
Benefits:
All customers enjoy a two-year guarantee on repairs and a lifetime guarantee on paintwork.
We collect the vehicle at the place and time indicated by the customer in order to take it to the garage and, once it has been repaired, we return it to the person receiving the vehicle at the agreed place and time.
After the repair work has been completed, we always clean the vehicle inside and out.
Vehicles repaired at any of our network garages take priority, thereby avoiding taxi or hotel expenses. Customers are also offered a minimum discount.
Our repairers offer a low cost courtesy vehicle; as a result, while your vehicle is being repaired, you can enjoy the use of another vehicle, which can be collected and returned at the same garage, at a very competitive price.
Ficha responsable-Talleres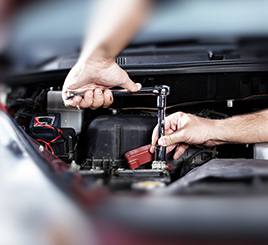 "We do not only repair the vehicle. We also collect and return it to the location of your choice and we offer you a low cost courtesy vehicle in the repair garage itself"
Request information