We assess motor vehicle accidents, mechanical breakdowns and vehicles for which the contract has ended. We have our own network of damage appraisers that allows us, in 9 out of 10 cases, to produce a report in less than 24 hours and begin the repair work, in many cases, on the day of the accident.
As specialists in the sector, we offer an audit service to monitor both the repairers and the repairs they carry out. It is the customer who chooses the points to be assessed, thereby creating a totally personalised product that is adapted to meet his or her requirements.
Benefits:
Our own network of professionals operating throughout the country, thereby reducing damage appraisal times.
Cost savings by reducing the time that the vehicle remains in the repair garage.
Our own website for the management of damage appraisals.
An independent team specialised in auditing.
Ficha responsable-Valoraciones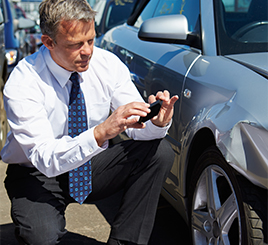 "We carry out a complete appraisal of the vehicle, producing a report on its condition in less than 24 hours in 96% of cases"
Request information